I have been a photographer in the Hawaiian Islands for 15 years and also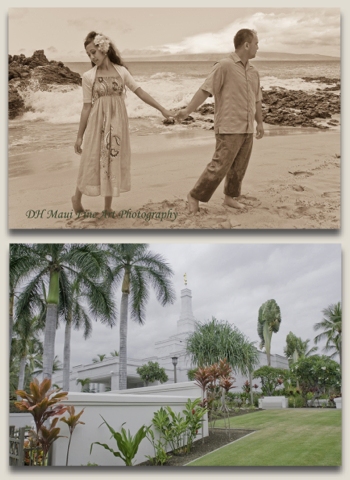 have a background in art and journalism. I grew up in the Mainland , in Utah and Idaho, in the Western part of the United States. My first roommate in college was Hawaiian; and the rest, as they say, is history! She introduced me to the people who would become my family. It has changed my life and influenced me in ways I can't begin to explain, but I have all kinds of fun stories that I love to share on photo shoots. My husband is my better half. He is huge, fun, gregarious and beloved by all who meet him. He often accompanies me on photo shoots, and you will enjoy meeting him and hanging out with us on one of our lovely beaches. You can get to know a little bit about our family on my other personal, family blog - where we talk about what it is like to live Hawaii, as we locals say. The blog is fun and personal and tells all kinds of tales on us, about what our life is like here in Hawaii.
We hope you will select us as your photographers, while you are visiting us. We have carefully crafted a fun experience for you to enjoy as we photograph you and your family. We make sure that you receive the most wonderful images of your family, wedding or event in Hawaii, and enjoy every minute of your photography experience. You will receive a mix of posed, traditional and non-posed, photojournalism style photos that will be carefully edited and prepared for you on a free disk or flash drive. This disk or flash drive, which ever you decide to choose, will be mailed to you within two weeks after the date of your photo shoot. All of our photography products and printed images are prepared by the finest Photography Labs in the country and we help walk you through the process of ordering, whether you choose to order yourself, from the comfort of your own home, or ask us to assist you in your ordering process. We do not charge high markups on your print orders, and make sure that we treat you like Ohana (family) throughout the entire process, from setting up your photo shoot, taking your pictures on one of our lovely beaches all the way through the ordering process, when your images are on your wall or shared with your friends through your favorite social media site.
We look forward to sharing our Ohana with your Ohana, and please feel free to call us at any time with any questions you might have and to set up your booking.
Aloha,